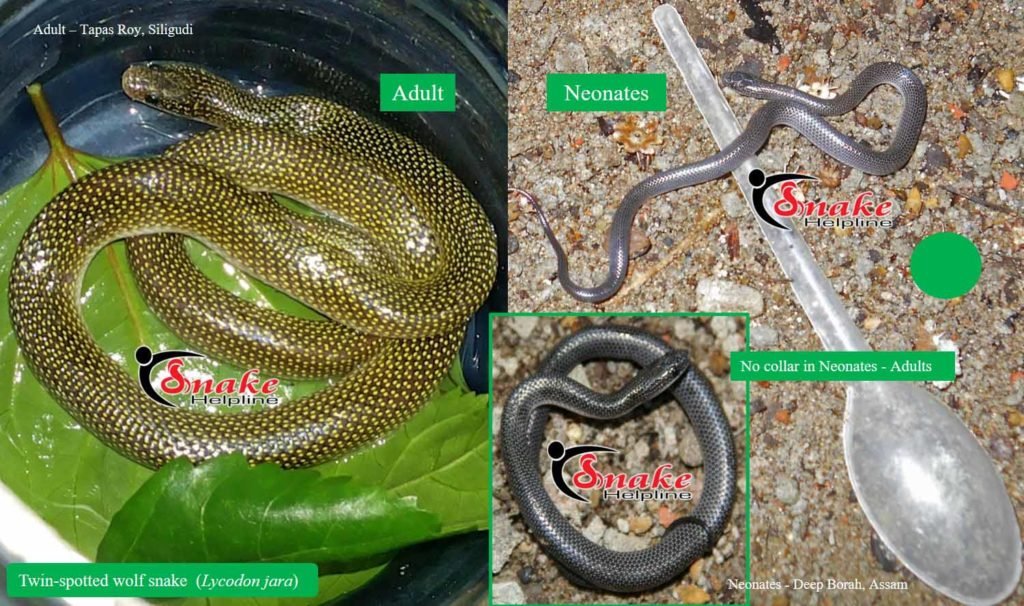 Non-Venomous
Common Name: Twin-spotted wolf snake
Odia Name: ଜାରା ସାପ
Zoological Name: Lycodon jara
Family: Colubridae
WL(P)A – Schedule – II
Neonate – 177 mm, Adults – 275 mm, Maximum – 550 mm. (The collarless snake L. jara is not found in Odisha; we put it here so that people can compare it with L. odishii containing a white collar in hatchlings which turns to yellowish in adult).
Identification: Glossy greyish or brownish black colour in neonates, which turns glossy olive green or purplish black above in adult. Two tiny spots are present on each scale of the body; the twin spots are white colour in neonates which turns to golden yellow in adults. No collar is observed in neonates to adults.
Here we present 2 neonates (177-180 mm) of L. jara prominently without any collar.
Controversy: Although, many people think young/juvenile of L. jara contains a yellow/white collar, but in reality, juveniles and sub-adult specimens were reported collarless. Three juveniles, i.e. 190 mm (Hussain & Roy 1993. JBNHS 90:113), 200 mm R/NRC/41 (Bahuguna & Bhutia 2010. Rec. zool. Surv. India: 110:37), 220 mm (Shafi et al. 2020. IRCF Reptiles & Amphibians 27(1):107–108); two sub-adults, i.e. 240 mm ZSI–8012 (Chaudhuri et al.2015. Hamadrayad 37:97), and 250 mm R/NRC/51 (Bahuguna & Bhutia. 2010. Rec. zool. Surv. India: 110:37)all are collarless, and published in reputed peer reviewed journals.
Look-alikes: Subhendu's wolf snake