Finding the elusive legless lizard – Barkuda Limbless Skink (Barkudia insularis)
Although, Snake Helpline exclusively works for the cause of snakes, however, the finding of an extremely rare and elusive limbless lizard prompted me to write this blog. This lizardis a skink species, but with no limbs. Because of its appearance, people often mistake it to be a snake. Thus, it is most likely to be killed out of general fear. But actually, this limbless skink is absolutely harmless as other skinks. This blog is intended to make people aware about a beautiful creature.
Team Snake Helpline have successfully documented an extremely rare lizard species from a new locality from Odisha. The rare lizard species is Barkuda Limbless Skink (Barkudia insularis). This Limbless skink was first found in Barkuda island and described as Barkudia insularis, a new genus and new species to science in the year 1917 by Nelson Annandale.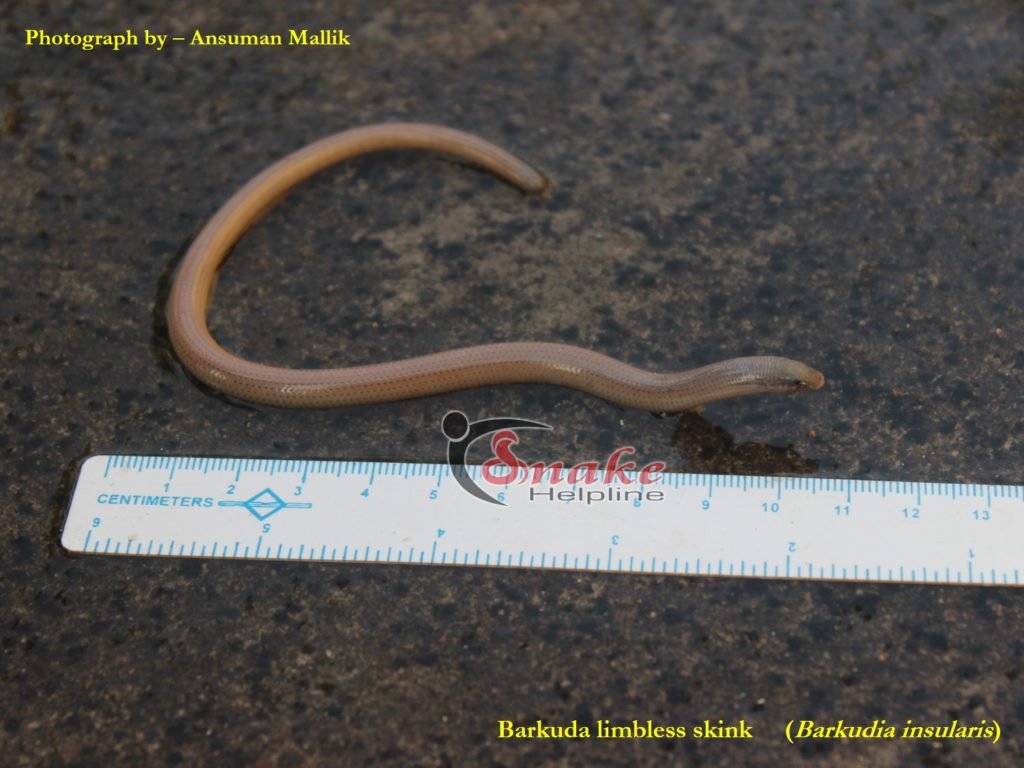 This rare species of lizard was remained elusive from scientists and explorers for many years and reported from a second location at Nandankanan Biological Park, Baranga, Odisha only in the year 1979. However, no supportive photograph was published.
In the year 2003 while conducting a survey in Chilika lake officials from Chilika Development Authority had again documented the rare Barkudia insularis from the same Barkuda island. Apart from Barkuda islands and Nandankanan Biological Park the extremely rare lizard was not found anywhere in Odisha. However, in the neighbouring state of Andhra Pradesh the Barkudia insularis was well studied in Andhra University campus in 1955.
In the month of December 2021 Harish Padhi, a local rescuer from Buguda, Ganjam sent me photo in my WhatsApp for identification. At the first instance I was pretty sure that, it was not a snake. Although I was aware about the limbless lizard occurring in the island of Chilika, but never seen such a specimen neither live nor preserved. I could not find a photo of that lizard to compare with. However, when I read the original description of Nelson Annandale, I could recognise the Barkudia insularis at once from the illustrations by Annandale. Unfortunately, the specimen was released back at the same place by Harish. I was saddened to lose the opportunity to photograph the rare lizard that I never saw.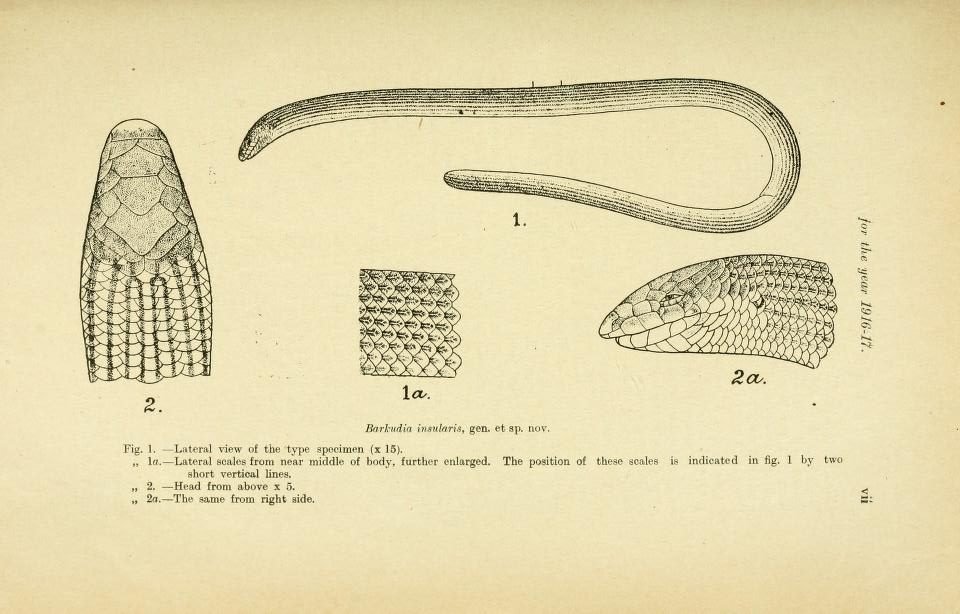 On 7 December 2021 a 4-member team of Snake Helpline went to Buddhakhol hill at Buguda in Ganjam district to search for the extremely rare and elusive limbless skink Barkudia insularis. Lalit Mohan Panda, Ashis Behera and Ms. Silka Selony accompanied me to a new location of Barkudia insularis. We reached around 1 pm at Buddhakhola where Harish was waiting for us for last 4 hrs. There we explored places to find out the rare specimen for about two hours. Suddenly the same Harish shouted with joy, and we run towards him without asking anything. Because we knew what would have happened.
We took some photographs and videos of the rare lizard in its natural habitat. The skink was later released in the same spot, where it was found.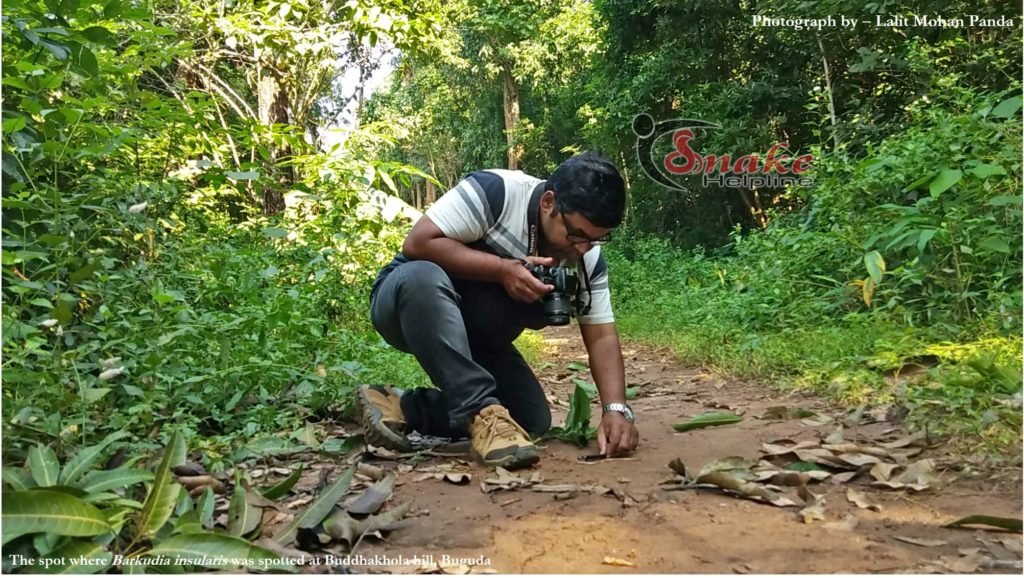 Basic differences between Barkudia insularis and a snake: It is not too difficult for a common man to differentiate between a limbless skink and a snake. A little close look will tell that the Barkudia insularis can open or close its eyes. No snake has eyelids. The 3 most common visible differences between a snake and Barkudia lizards are –
| | | |
| --- | --- | --- |
| Characters | Snake | Barkudia insularis |
| Forked Tongue | Present | Absent |
| Eyelids | Absent | Present |
| External ear holes | Absent | Present |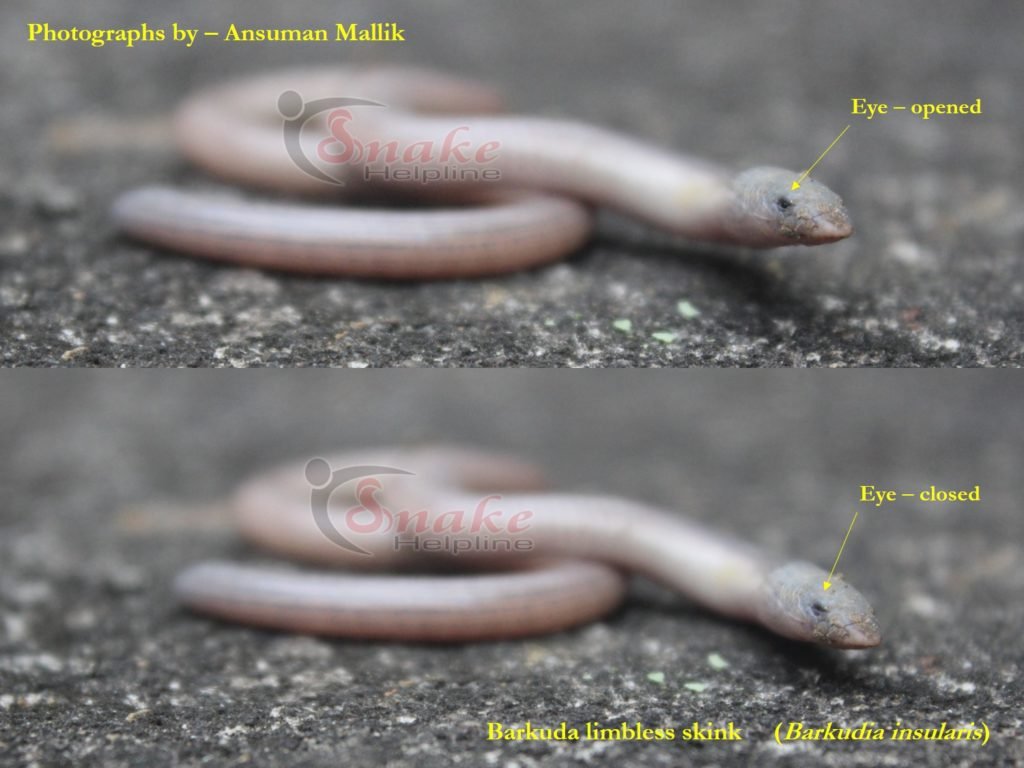 About the new locality: We have found the extremely rare skink Barkudia insularis from a hilly habitat, i.e., Buddhakhola, a well-known tourist spot in Buguda, Ganjam. Earlier it was found only in 3 occasions;
Barkuda island inside Chilika lake – 1917 by Nelson Annandale.
Nandankanan Biological Park – 1979 by Biswas &Acharjyo.
Barkuda island – 2003 by Chilika Development Authority
Barkuda Island is situated in the Chilika lagoon near Rambha Bay near Sankuda Island and is 5 kilometres away from Rambha Jetty. Nandankan is also situated in plains. However, we found the lizard from a hill. Further, Harish Padhi had informed me that he had also found from one more location at Kanasarala village in Buguda; that village is in plains. The find of the extremely rare limbless skink Barkudia insularis from a hilly area warrants in depth study and research.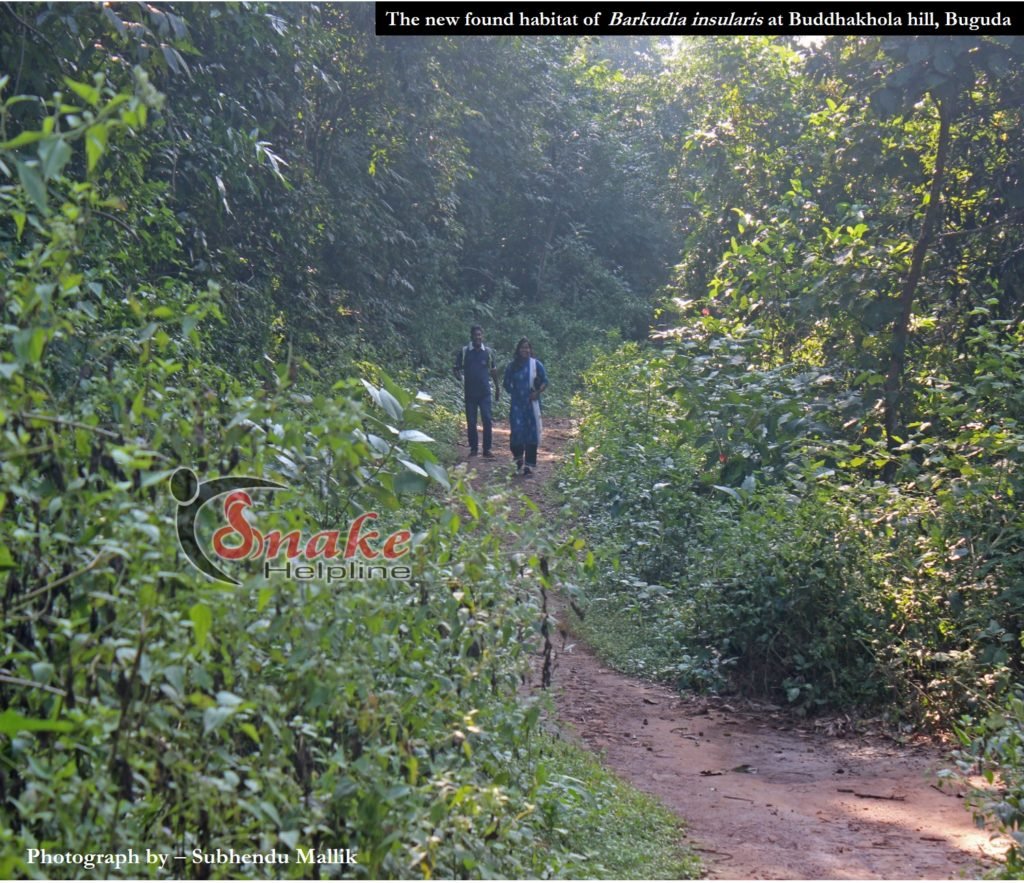 Indeed, a rare lizard: The Barkuda Limbless Skink is so rare that no identifiable colour photograph is available in Google when we searched till 13 March 2022.
We get only 2 colour photographs in Google when typed Barkudia insularis in Google; (1) In a blog by Love4Telugu on 4 June 2017, and (2) in a PPT by Prasanta Kumar Behera.
In the largest database of reptiles in the world, i.e., the Reptile Database no photograph was found on 13 March 2022 for Barkudia insularis.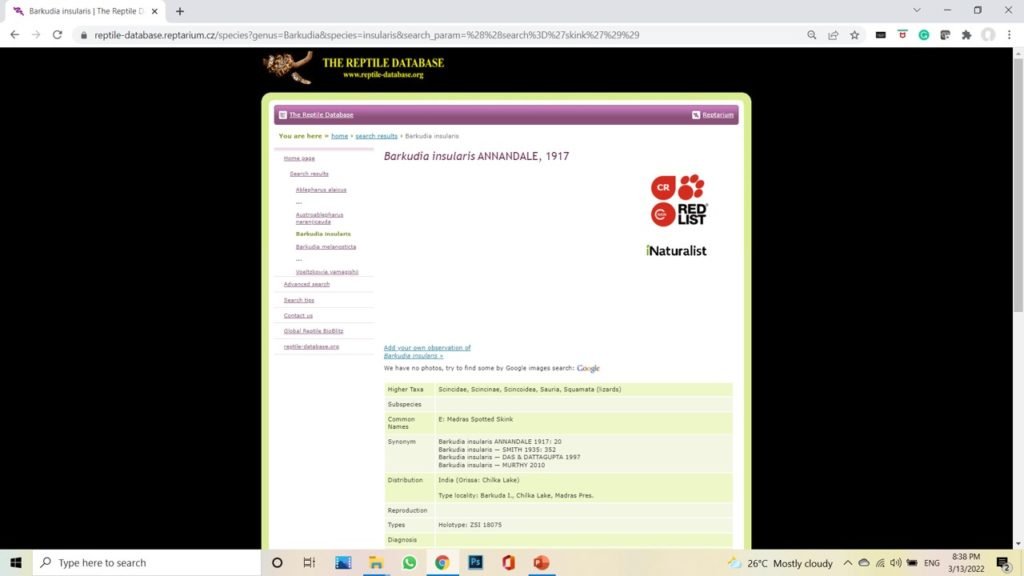 Similarly, no photograph of Barkudia insularis was found in the Reptiles of India database, the largest in India on 13 March 2022.
The IUCN Redlist had listed Barkudia insularis as Critically Endangered species in 2010. There is only one step left before extinction of the species.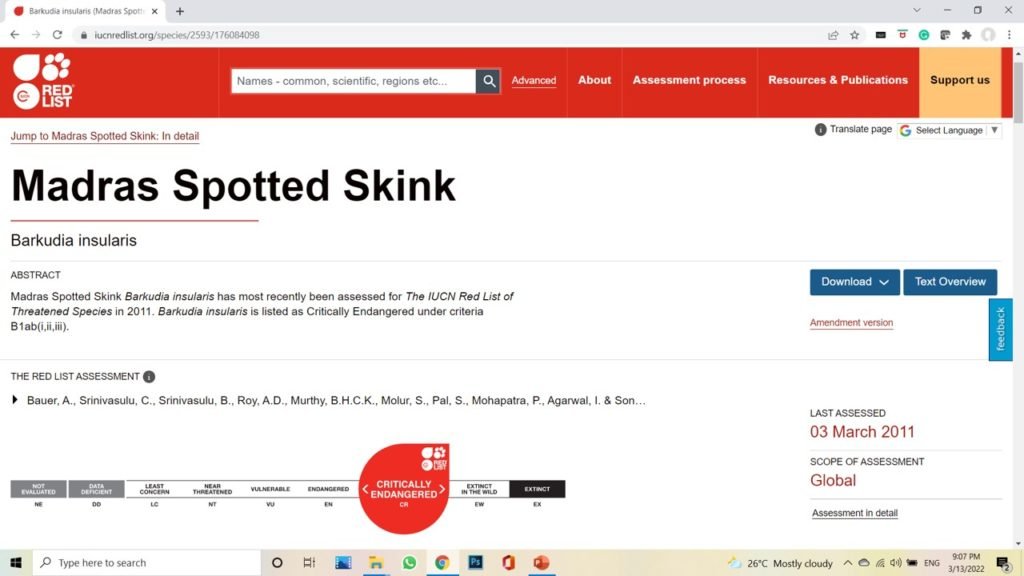 No photograph of Barkudia insularis there in the most common Wikipedia on 13 March 2022.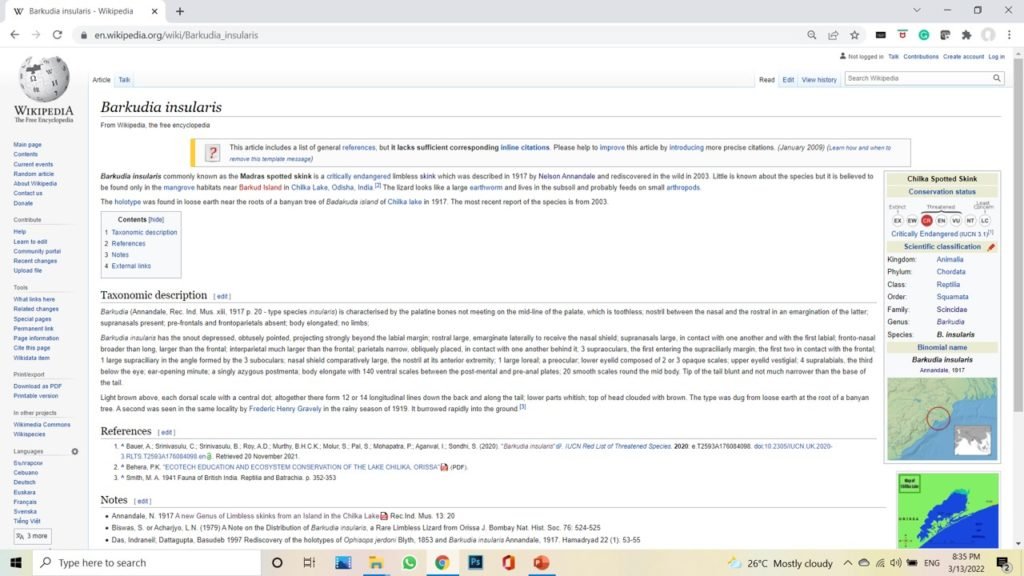 Interestingly, we found 2 photographs in Facebook searching for Barkudia insularis.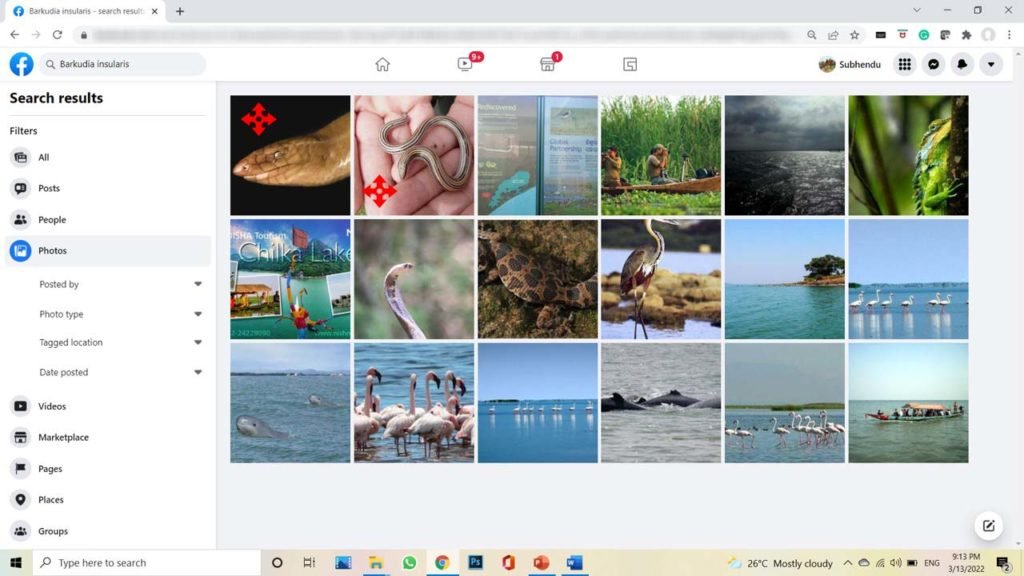 One was by Kaushik Deuti from 6 March 2017, and the other photograph is copy from Love4Telugu blog of 2017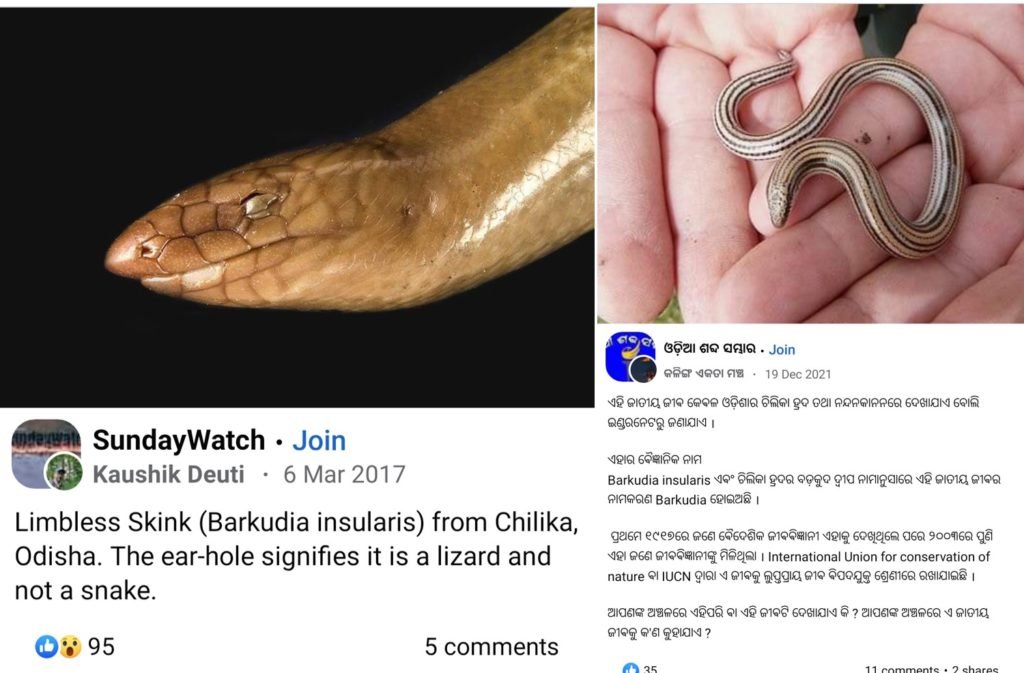 However, no video was available of the Barkudia insularis in any online platform on 17 February 2022. Here we in Snake Helpline present the first ever video of Barkudia insularis. Watch it on Snake Helpline YouTube Channel.
Special comments: Interested persons can explore more about species description from herpetology books. However, I want to add just one comment on the common name of Barkudia insularis. Many authors have stated the common name to be Madras Spotted Skink. There is no need to add the name Madras, because Odisha is no more under Madras Presidency. In the year 1917 Odisha (then Orissa) was under Madras Presidency. But the lizard was endemic to Barkuda islands (Chilika lake, Ganjam, Odisha), till 1952 when it was reported from Andhra Pradesh. Therefore, I do not find any logic in calling it Madras Spotted Skink. We must retain the name 'Barkuda Limbless Skink' which glorifies the type locality 'Barkuda island'. Moreover, the then Madras Presidency is totally different from the present. In fact, the name Madras do not exist anymore; the name 'Madras' is changed to 'Chennai'. Therefore, all should use the common name 'Barkuda Limbless Skink' for the limbless lizard Barkudia insularis.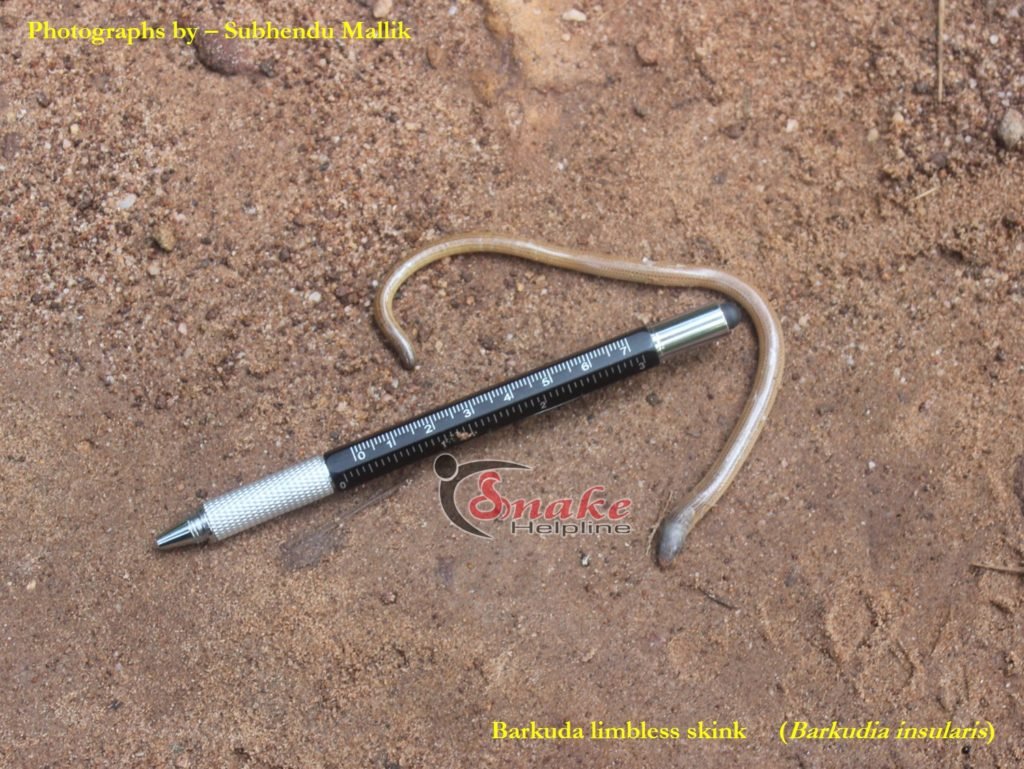 Subhendu Mallik,
General Secretary, Snake Helpline &
Honorary Wildlife Warden, Khordha District.
Date –14 March 2022