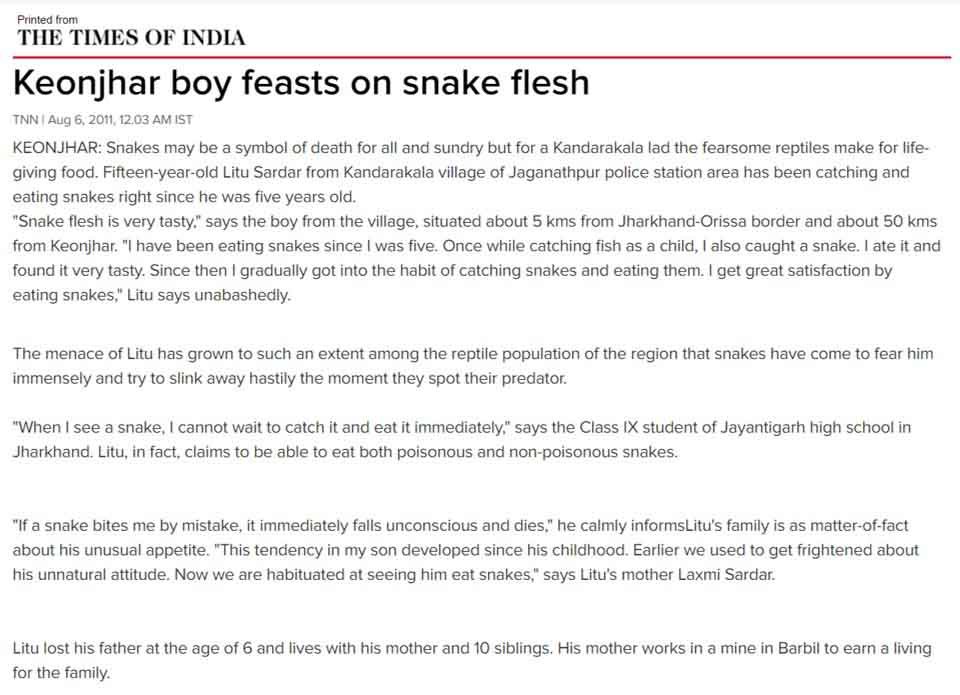 In 2011, there was a sensational news of a 15 yrs. old class 9 boy eating snakes in Keonjhar district of Odisha. The Times of India carried a caption 'Keonjhar boy feasts on snake flesh' on 6 August 2011. "If a snake bites me by mistake, it immediately falls unconscious and dies" Litu Sardar the boy was quoted in the TOI. TOI further reported that snakes fear Litu sardar by stating "The menace of Litu has grown to such an extent among the reptile population of the region that snakes have come to fear him immensely and try to slink away hastily the moment they spot their predator".
I could not suppress my temptation to examine such a boy. I along with my colleagues Amit Mohanty and Soumendra Prakash Ray reached at Champua, Keonjhar on 21 August 2011. Manas Ranjan Mohanty, a local journalist friend had made elaborate arrangements for us there. We met at the Champua Press Association office and discussed about the amazing boy Litu Sardar. Many of the press reporters were eye witnesses of a spectacled cobra dying in the hand of Litu Sardar after biting him on his left thumb. This narration made me more curious to meet the miracle boy.
Then we proceeded to the village of Litu Sardar accompanied by many journalists; actually, the amazing boy was residing in the neighbouring state of Jharkhand, which is around 50 kms from our place. The mission was to verify the claim of 'Snake will die after biting Litu'. When we reached there Litu had gone somewhere and a man was sent to him to call him. Then I started asking few questions to the family members and neighbours of Litu Sardar. They informed me that they had also seen snakes dying in his hand after biting him within minutes.
Litu came to us within 30 minutes. At the first impression I found Litu Sardar a strong & stout young boy. I did not find any remarkable smartness or cunningness in him, rather I found him a sober, cool and composed. Hailing a from tribal community he can speak both Odia and Hindi at ease. He was a never a bright student and liked sports more than study. I asked many questions but tactically avoided the snakebite. I praised him for his job of rescuing snakes from distressed household. Then he began to open up in front of me. Somehow, I could feel a hidden pain in his face which he was desperately trying to hid. Then I asked about the famous cobra bite in which the cobra died in front of public. Litu narrated that incidence and said the cobra died while he was holding his head in his hand. Upon asked by me to show where the cobra bit him, showed me his left thumb which he was kept covered under a handkerchief (Fig. 2). However, the wound was not clearly visible because a heavy coating of talcum powder was there which was bring out a pleasant smell. The wound was simple terrific. The underneath of the nail region was devastated. There was remarkable swelling with tissue necrosis visible (Fig. 3). I asked him why he was using scented talcum powder. The miracle boy answered "to supress the foul smelling and to keep the finger dry". Serum was continuously oozing out from the wound. I restrained myself on expressing the dangerous condition of his finger.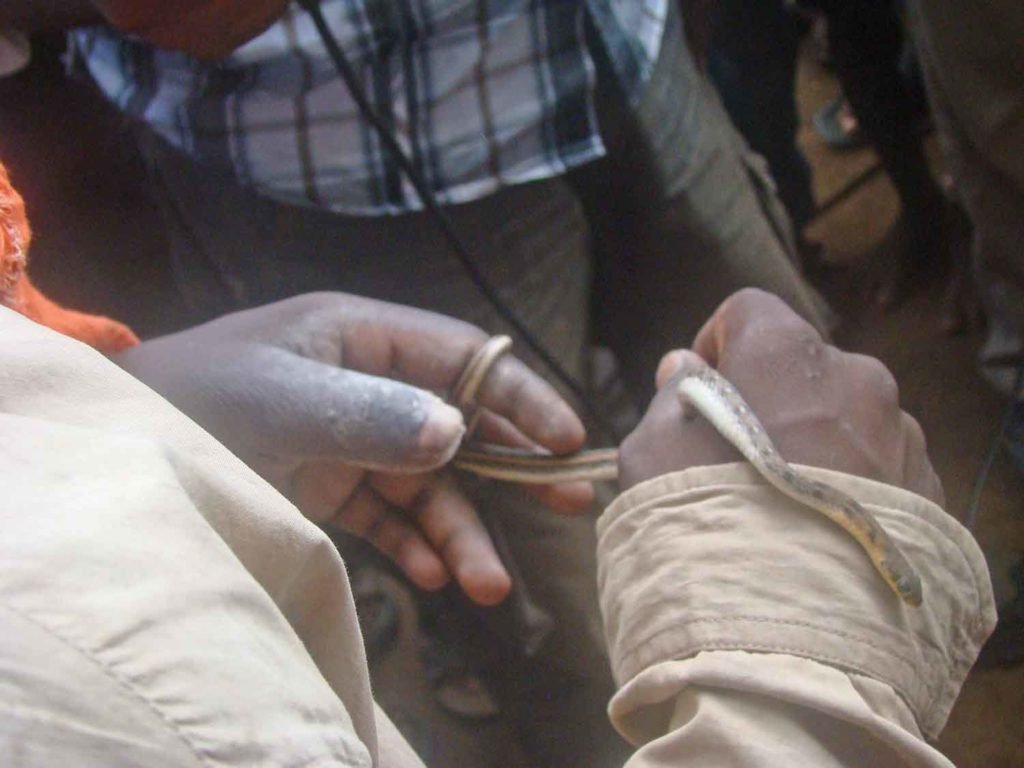 Then I asked him to give a demo on how a snake died after biting him. Litu asked which snake? I answered a harmless one, Striped Kellback (Fig. 4). After hearing the name of a non-venomous snake there came a loud laughter from the villagers gathered who unanimously said that such a snake couldn't survive even 5 minutes. However, the press reporters accompanied us then became active to shoot the live demo. Litu took the harmless 1.5 ft long striped keelback snake in his right and tried to inflict bite on his left index finger.
After failing do so he then tried to bit his right thumb and there developed 2 fang mark like marks; blood was oozing out of the wound (Fig. 5). Immediately I snatched the snake from Litu's hand and handed it to my colleague Amit Mohanty (this was a pre-planned tactical move by us which others did not known) (Fig. 6).
The villagers said that the snake was not going to survive beyond 5 minutes being a non-venomous one. As per them since Litu was eating snakes from his childhood, he had developed immunity from snake venom and his blood become poisonous; any snake bit he thus died unnaturally. I was waiting for my turn. After 5 minutes over the villagers were surprised to see the snake moving in the hands of Amit Mohanty. The press reporters got the message, but the villagers were adamant that the snake would surely die. We further waited for 20 more uneventful minutes. Then the villagers were reluctantly but forced to accept the fact that Litu was not a miracle boy.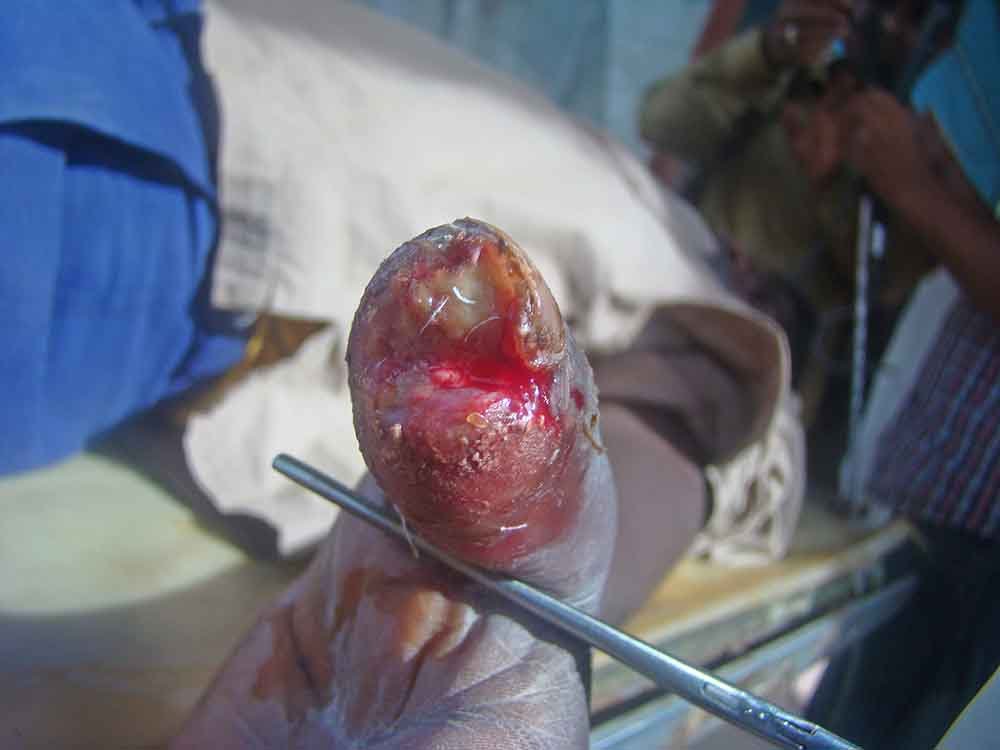 I convinced the family members of Litu Sardar to send him with me to consult a doctor of the nearest hospital. The surgery specialist of the hospital cleaned the wound and applied dressing (Fig. 7). He gave some antibiotics and advised to consult Plastic Surgeon to save the finger. I also requested the family members of Litu to bring him to a better facility to Cuttack or Bhubaneswar, which did not happen unfortunately.
My observations of the case:
Q1. Why Litu sardar was alive after a cobra bite?
Not all the cobra bitesare fatal. Medical science says 12mg of cobra venom is the lethal dose to kill a human being of 60 kg body wt. In case of Litu Sardar the cabra had punctured only one fang to the left thumb. Thus, there was every chance of getting less than the lethal dose of venom. He survived the envenomation on his own, but with the lacal effects of cobra venom.
Q2. What will be the fate of the finger of LituSardar?
Litu Sardar's left thumb was in a critical stage. According to the surgery specialist examined him it was to be amputated as soon as possible if proper debridement and reconstructive surgery was not done (Fig. X). The quantity of venom did play a crucial role and LituSardar survived due to sheer luck. However, due to his ignorance he suffered silently not knowing about the danger of local effects.
Why the cobra died after biting LituSardar in front of eye witnesses?
Litu Sardar was school dropout & hails from a poor background. By catching snakes, he was earning money in a school going age. People tend to praise him and thus he had developed a superman like attitude. He was in a state of mind that nothing will happen to him after snake bite. When the cobra bit him on his left thumb, he was in a fear. But, as he was surrounded by public, he tried to maintain his superman attitude. In his subconscious mind he tried to hold the snake tightly so as to prevent the snake from any other movement. The trachea would surely have been closed when he held the snake tightly, and the snake would have died of suffocation. I had seen him holding the very docile non venomous snake striped keel back tightly by its neck But, when we tested him, we took the snake away from him immediately after it bit him; therefore, the striped keelback snake remained unharmed (Fig. 3).
Q4. What wild life act says?
All the Indian snakes are protected under the Wildlife (Protection) Act, 1972. Therefore, eating a snake draws the same legal action as in case of a deer, a peacock, or any wildlife whatsoever.
Why he was eating snakes?
I was quite sure that the boy was eating snakes only to public attention. The local people informed us that some people paid him Rs 500 only to see him eating a snake. Eating live snakes can be more harmful because they contain harmful pathogens like parasites, bacteria and viruses etc.
CONCLUSION-
1- The hype in the media and the locality in fact in the entire state that the boy Litu Sardar having magical powers and snakes dying after biting him was found to be false.
2- It was a case of illiteracy and ignorance. The poor boy suffered a lot.
3- Eating snakes is liable under wildlife act.
4- Eating live snakes invite zoonotic diseases.
Subhendu Mallik,
General Secretary, Snake Helpline
Honorary Wildlife Warden, Khordha